HUMANITARIAN ASSOCIATION AKAMASOA
Declared as a Charity and Public Need by Government Decree N ° 2004 - 164 of 03 February 2004
Dear friends,
We are finishing the year 2016 and we want to share with you around the world our joys and sorrows in our Akamasoa Humanitarian Action.
It is true that we must be optimistic and positive, and we really are, since this year we are entering the 28th year of fighting poverty in Madagascar.
But our spirit of hope must not prevent us from telling our benefactors the truth about what we live from day to day in the region where we work, as well as throughout the country.
The projects and works we carried out in Akamasoa during the year 2016 were many, in so different fields.
Within our Association, indeed, we can say that the spirit and effort are very strong for; work, send the children to school and educate them.
But every school year we have to go to all villages to convince parents once again of the necessity of sending their children to school.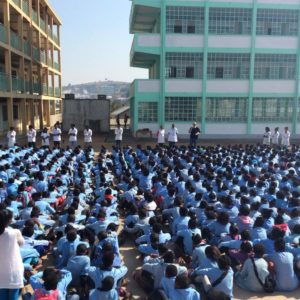 In this area of ​​education, the Government, this year again, granted us the salary of 90 Akamasoa teachers. All the results of our schools were good except those of the BEPC, which proved to be very bad for the first time. We cannot explain yet why. 100% success at the CEPCE, around 80% for the BAC, and this examination of the PEBC, fell around 25%. So bad results never seen before in our schools. .
Our action for the poorest of the street and the daily help we share with those who have nothing but who don't live in Akamasoa was still very high.
"25 845" went through our Welcome Center . Because of that, we had to enlarge the Welcome Center building, which, at the time of writing, is home to 525 people.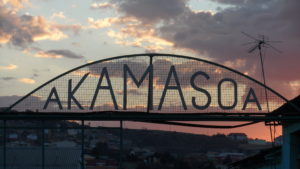 That's mean, 525 people who eat every morning, noon and evening because they have nowhere to go, and who for 70% are children and single mothers.
We have also doing new water closets, new showers and new water tanks, since this is of utmost and crucial importance. And we plan to make a new extension next year.
As for the workers who work in Akamasoa, we reduced our group of masons, inviting them to go to work outside.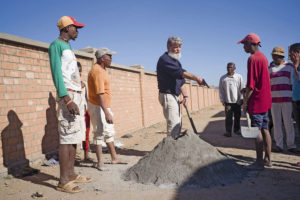 Security in Akamasoa is stable, but we remain attentive to the situation. All the men who work for the safety and care of the villages are there and we are trying to increase and consolidate their numbers. It is at this price we keep our villages away from so many thefts, drugs and prostitution.
Problems related to drinking water persist. Of course, the city provides us with drinking water.
But some months, the water does not come at our most important center of Manantenasoa, and our people are forced to walk 4 km to bring with great difficulty 20L water  jar.
Because they are working so hard during the day, many families are forced to get water during the night. The consequence is that children sleep in classes, or that the parents who go to work the next day are very weak.
We are still surprised that this problem of water and electricity, not only for us but in the entire Capital of Antananarivo persists. Without drinking water and energy, "progress" is really difficult to "get in".
With our meetings of villagers, our prayers, meetings of parents, we try to hold high the courage and desire to fight, to continue this struggle for survival, waiting for better days.
What is visible to everyone is that when poverty does not diminish, it stagnates, and when it stagnates, it becomes bogged down in everyday life.
One feels the gloom in everyday life.
Nervousness in town, taxi drivers upset, people tired of waiting and breathing the car's exhaust using only their first gear in the traffic jams all day long.
We also feel this lack of protection of the common good: roads, sidewalks, gutters.
Everything is in a dilapidated state, and no one reacts to rebuild those damaged things.
We had a big event this year, it was the "Sommet de la Francophonie" (Highest meeting for the French Speaking Countries all around the World happen in the Capital of Madagascar), which everyone expected a positive outcome, except the Political opposition parties of course.
Many investors and Several countries, during this summit, expressed the wish to cooperate for the development of Madagascar.
The wealth of our association is our children.
Children in Akamasoa have become real children. They are the one in our villages, streets and community spaces giving us the joy of living, of continuing to fight for them. Children happy to live, to eat, to have housing: they are the reason to be for their parents and for the leaders of the association, their happiness pushes us to continue to build our city with love, justice and fraternity.
As a result, we want to share with you what we did this year.
Achievements 2016
Construction:
- 114 Housing at Antananarivo
- 4 schools of 10 classrooms at Andralanitra, Mahatsinjo, Mahatazana, Antolojanahary
- 2 maternity with a house for the midwife  at Manantenasoa and Kimony (Morondava)
- 1 home at Ranomafana
- 1 school of 2 classrooms for the EPP with room for preschool at Ikianja
- 16 temporary wooden houses at Mangarivotra
- mini football playground at Tsaramasoandro
- Roads and walls: retaining walls at Lovasoa, Bemasoandro
- concrete lane 100m Bemasoandro with gutter
- lane 100m Mangarivotra -ruelles with gutter at Tsaramasoandro
- paved road at Bemasoandro
- asphalting of 1,318 m2 of the court of Mahatazana Primary School and the Visitor Center
Rehabilitation
-paved road at Bemasoandro
- Synthetic lawn for the football field at Bemasoandro
- Coated 140 houses at Mahatazana, Mangarivotra, Mahatsara, Andralanitra City  
Landscaping
-Enlargement of the reception center to Mangarivotra and
-36 latrines with showers
- mezzanine transformation of the warehouse to Andralanitra,
- Terrace construction and guardrail,
- Rehabilitation of a house with construction of 3 toilets septic tank for the hosts
- installation solar panels to the maternity at Morondava, Tsiroanomandidy, Imeritsiatosika (sisters College), CSB II Itasy in Sainte Marie, 7 CSB II next to Pangalane (Tamatave)
-Maintenance of a hydroelectric and solar power station at Ampasimaneva, Itampina.
-Installation of hybrid solar power plant in Akamasoa 80 kwc.
-Confection: 1300 bench tables for schools, 60 beds for the reception center;
Water
-4 boreholes 18 m deep at Antolojanahary, Mahatsara, and Morondava with water cisterns
- 2 wells at Ambohimalaza
Forest
-nursery of 200,000 trees at Alatsinainy (Mahatsara)
- reforestation of 10,000 trees in Antolojanahary
- production of 320 kg of spirulina in Mahatsara.
Projects for 2017
Construction
-80 dwellings
- Hostel for visitors to Akamasoa
- 10 classrooms + veranda
- new primary school in Andralanitra
- Library for the Superior School
- community laundry in Lovasoa
- 50 latrines and 50 showers;
 Roads and walls
-paved road of 1 km
- and channel with retaining walls to channel rainwater and a bridge of 5m length
- tracing of a path in the ascent of Lovasoa;
Arrangement
-extension and closure of the Andralanitra basketball stadium
- extension and elevation of the Mangarivotra reception center
- development of 4 mini-football pitches and basketball and handball
- purchase of a new ground for the extension of the cemetery Market Manantenasoa;
Water
-drilling and supply of drinking water in the villages of Ambaniala, Manantenasoa, Mahatsara
- 3 water tanks;
Rehabilitation
-covering 100 housing units in the quarters of Akamasoa
- rehabilitation of the Ambaniala village
- rehabilitation of 80 houses in Lovasoa
Reforestation
-planting 20,000 trees.
Dear friends of Akamasoa,
You who have supported us, helped us, encouraged us during so long with your regular donations, we can only wish you much health and joy, since you allowed us to evolve, to progress and to Give a Future to our 13,500 children, a dignified end of life to 1,000 elderly people, and a daily job to 3,000 parents so that in dignity they can support their own family.
Like all citizens of this great country, we are waiting for an economic take-off, otherwise we will fall into greater insecurity and despair. But we do not believe it will happen.
After "the Summit of la Francophonie", the government held a meeting of the friendly countries of Madagascar in Paris, and they had very important promises of assistance.
Around $ 10 billion. It is true that if this money is supposed to be used for infrastructure works as roads, land planning, construction of new hospitals, schools and for the common good, many people would have a job, and with regular work Everyone begins to breathe calmly, finds the tranquility necessary to found a more just society, a society in which all citizens have their share of the sun and National wealth.
This country is full of wealth and it is a contradiction that cries out to the sky that seeing more than 70% of its population living below the poverty line.
Political politics has overthrown this country, brought it into a labyrinth with no way out.
There is a fundamental lack of solidarity when it comes to the common good of all the citizens of Madagascar.
There should be no fights, struggle of privileges, or to carve out, in important projects, the best bite for some already rich groups in this country.
Corruption is always too extensive, it undermines the very foundations of the life of the whole Nation, and in this field we must react at once.
We believe that the government, together with the International Community, will be able to restore order, the rule of law and social justice so that all citizens of Madagascar can benefit from the minimum necessary to live with dignity.
We did it on a scale of a few thousand people with our little means. The state can do it on a National scale with all the help it will receive next year.
We hope to be able to give you better news next year, that the country restarts, has regained confidence, eradicated a little more corruption and poverty.
Dear friends of Akamasoa,
know that we pray for you and that you are very often present in the prayer of our children.
We are also happy to receive every Sunday and during the week hundreds of visitors who come to encourage us and who are happy to see our children who go to school, do not beg, have a radiant face and peace.
We can't finish this report without sharing with you the sad news of the death of Ms Honorine Rasoamanalina vice-president of Akamasoa, who was murdered by her own nephew on May 20th, 2016.
She died in martyrdom.
She will remain alive in the hearts of all the people of Akamasoa through her love, smile and courage.
Dear benefactors,
Merry Christmas, this feast of sharing, love, solidarity without borders.
God makes us one of us to marry our human condition and so we can become richer by his love, and then work for our brothers.
Brothers and sisters of the 5 continents, good and happy 2017.
Fra Pedro Opeka