First, we waited for the new year at Andralanitra, the village next to the waste discharge of which we have to leave every day with this disgusting odor, since the garbage is dumped by trucks from the roads near our schools and our houses. In the courtyard of the chapel and the house of the father Pedro, about 700 people came to dance, as is already customary; through the rain, bad smells were somewhat alleviated! And this rain, which lasted all night, did not prevent people from being happy together, to dance and to interrupt half an hour before midnight. In unison, when midnight approached, we count the last seconds; then we wishes a Happy New year to everyone for almost half an hour.
New Year 2016 AKAMASOA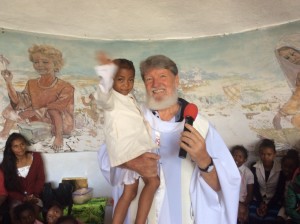 Then, in the chapel, we thanked God for the New Year; all attendees received the blessing of Father Pedro, before starting a thank singing and dancing resumed, until 2am. The people were so happy that nobody wanted to leave; but he had nevertheless put an end to the party, because we had to get up early the next day for Mass. A few hours later, at 6: 00 am, all the villagers came to wish a happy new year to Father Pedro and Miss Bao. It is used as village representatives and discharging say their vows and then give an envelope with the money raised in families as a sign of recognition of the work the Association has given them. Again, the father gave his blessing to all those present; and it was already 6: 30 am when we came up to the cave, where 3,000 people were waiting to celebrate the Eucharist. We started this Mass to give thanks to God and ask for new favors for families, for all Madagascar, for benefactors from around the world, for world peace called by Pope Francis. And this prayer, despite the fatigue of the night, was carefully monitored and everyone listened to the word of God who spoke about the importance of the blessing for each person and each family. For this blessing is our protection, is the love of God which gives us happiness and peace that settled in all of us, and provided that divine presence in our heart and mind, we can go anywhere without fear or fear. God is with us and we are always blessed. After Mass, again vows spoke for many hours with much joy and happiness; a large family we felt that one is here to Akamasoa. We also shared the new calendar of Akamasoa, people pulled out with great eagerness, because they know it's their own story told in these images that we put every year in this calendar. God has blessed us with this splendid day, a radiant sun and clear skies. As they say, after the rain the good times! Hope this good weather and sunshine of love, justice and truth accompany us throughout the year, in our hearts and minds. Thank you all, dear benefactors and donors who accompany us for many years to experience this miracle and give the means for it to continue to be an oasis of hope for the city and all who visit us. For all who pass here feel true joy, brotherhood and family spirit prevailing among us. Happy New Year everyone !